Balsiger wins Sequim Bay Regatta with 5 Bullets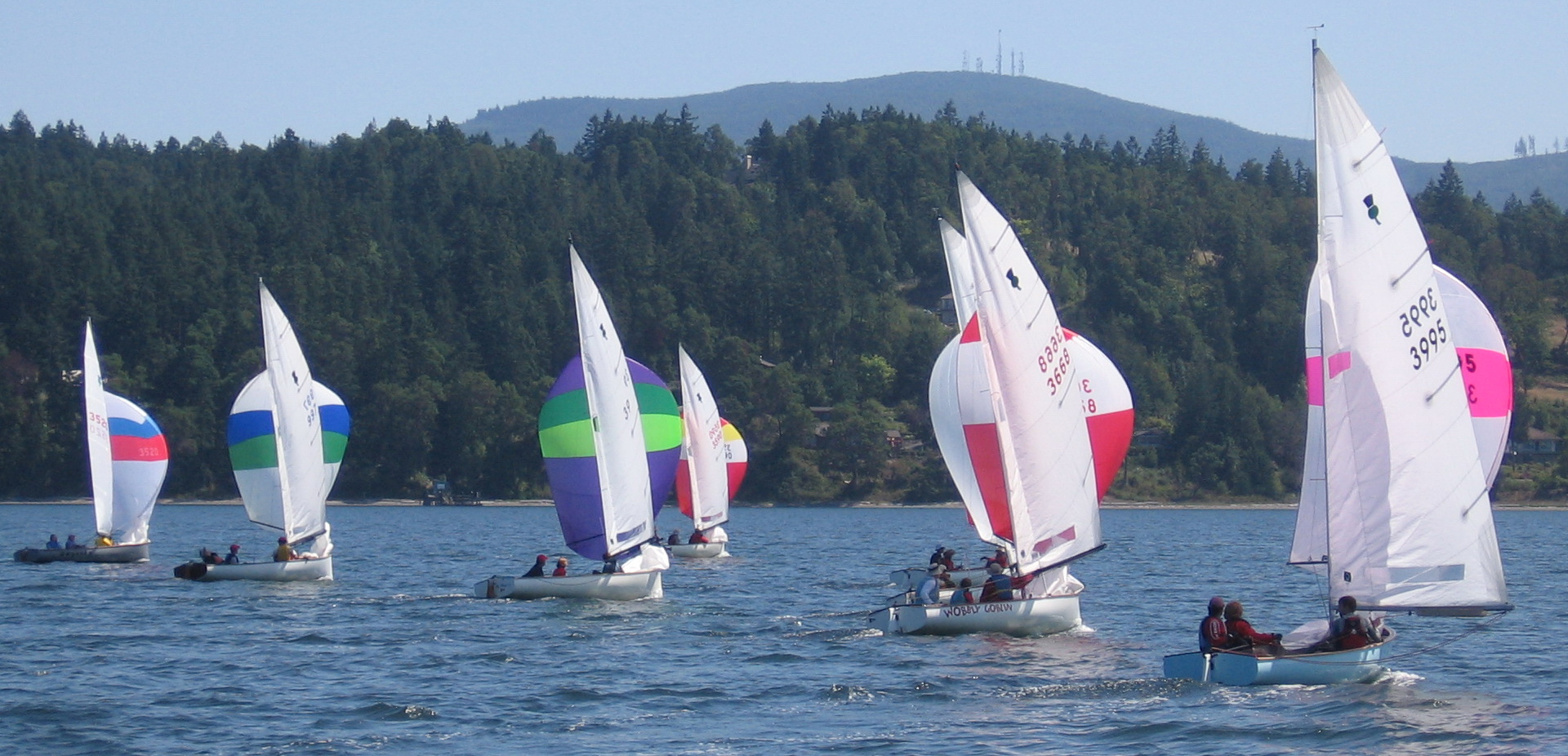 Balsiger wins Sequim Bay Regatta with 5 bullets
By Wayne Balsiger
Wayne Balsiger, Karen Gilbert and Daryl Mondor (3664) won five of eight races at the 2009 Sequim Bay regatta August 15-16th.  Ted Sumner, Mike Rees and Paul Cone (3590) closed to within two points when Balsiger fell to sixth in the last race. Dwaine Trummert, Terry Lettenmaier and Laurie Weitkamp took third. 
With good starts and good speed Balsiger won 4 races to gain a 7 point lead on Saturday in 8 - 12 knots of wind and temperatures in the upper sixties.  Sunday saw 7-10 knots with warmer temperatures in the seventies.
The pin was favored in the first race and after Ken Lane 3995 had to restart, Balsiger had clear air on Starboard.  It paid to stay left initially but going center-right paid, as there was more current left and the wind was more to the left than usual.  Trummert stayed left and rounded maybe 7th.   Sumner was first at the weather mark but Balsiger was able to jibe inside of him as he had to delay falling off for a port boat going to weather.   By the leeward mark the fleet had collapsed with Balough (3956) inside and ahead of Balsiger, Eric Ryl (3940) and Tim Mills (997) and several other.  Balough had to jibe and sailed lower than Balsiger giving Balsiger the win.  Racing was tight and all boats finished the windward leeward within about what seemed like 55 seconds.
The second race the pin was again favored and Balsiger won it and lead left for ½ mile then tacked to port.  He got over to the right before some others and by the weather mark, right tended to pay in most races. 
Race 3. Sumner got to right earlier and earned the lead.  At the Leeward mark Balsiger was right behind Sumner.  After both tack to starboard, Sumner pulls ahead four boat lengths with clear, Balsiger tacks to port and sails behind and beyond Trummert (3669) before tacking.  A big righty comes in and 3590 lays the mark with Balsiger way overstood.  Balsiger barely beats Balough (3956) to the mark.  3590 wins.
Race 4 was an Olympic course and after a good start Balsiger tacked to port. After barely clearing one boat, he was able to go right and get into the right shift up by the mark.  He held off the others on the reaches to win
Race 5 Windward, leeward, twice around.  After gaining the lead, and going right, Balsiger got richer as others kept tacking for clear air and overstanding.
Race 6 windward leeward.  Race went well for Balsiger and he rounded weather mark first, and while boats closed on the run, he stayed ahead of 3669.
Race 7 Olympic course.  Good speed and going right with clear air Balsiger led at all marks and finished one minute ahead of second in a horizon job.
Race 8.  Winward Leeward. Pin favored and Sumner won pin, and soon port tacked the fleet to the right.  Balsiger was able to continue on starboard, probably too long and then tacked to leeward of Lane (3995).  After tacking for starboard boats or ducking starboard boats decided to sail conservatively and not tack to leeward of Dave Bogue (3520) and both of which were above layline.  3590 won race and Balsiger in middle of four boats finishing all at once.
Thanks to Wil and Suzanne Anderson for being PRO, and Ken and Chris Emmes for their Cheoy Lee 36 as committee boat and Rudy Pettit of Sequim Bay for loaning a dinghy to us.  Chip Balough was also given a gift card for fixing the electrical problem on the Cheoy Lee that almost left us without it. 
The Tacoma fleet did a great job on food and Kathy Bogue made the trophies. This year the regatta was hosted by the Tacoma and Seattle fleets.
Sequim Bay 2009 results:
boat/skipper/race1    2    3    4    5    6    7    8   Total
3664 Balsiger     1    1    4    1    1    3    1    6   18
3590 Sumner      3    3    1    5    3    1    3    1   20
3669 Trummert   4    4    2    3    2    5    2    2   24
3956 Balough      2    2    3    6    4    4    7    5   33
997  Mills            5    8    8    4    5    2    5    3   40
3995 Lane           7    5    5    2    6    7    4    7   43
3940 Ryl             6    6    6    7    7    9    6    9   56
3668 Sellers        8    7    7    8    8    6    8    8   58
3520 Bogue       DNS  DNS  DNS  DNS  DNS   8    9    4   66